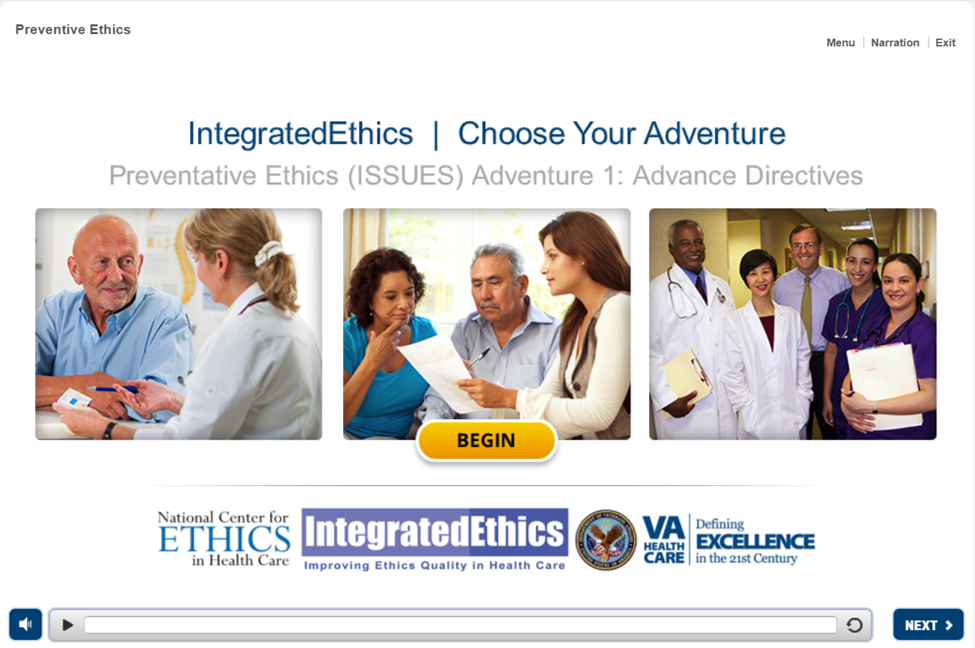 US Department of Veterans Affairs:
Online Ethics Training: Choose Your Own Adventure
As part of their Integrated Ethics initiative and to expand their on-line ethics training offerings, the U.S. Department of Veterans Affairs wanted to increase staff skill in applying the department's CASES and ISSUES methodologies. VA wanted a truly immersive experience for learners, with realistic and fairly extensive case studies to work on.
Building upon previous collaboration with the Department of Veterans Affairs, Illumina and its partners Sigma Health Consulting and Education Development Center produced several elearning modules in Preventative Ethics topics for the VA's National Center for Ethics in Health Care. One of these new modules is a "Choose Your Own Adventure" branching scenario, where the learner becomes part of a virtual VA ethics team to tackle a realistic and complex case scenario in healthcare ethics in a VA setting. The branching structure of the course offered learners multiple opportunities to interact with their virtual team members, and to apply the ISSUES approach for categorizing and tackling ethics challenges. The course graphics used stock photography characters for the team members and others in the medical facilities.
What our clients say about us
"They are quick to understand and adapt as the specs have evolved over time. Being flexible and responsive is a huge benefit. Because a lot of clients don't know what they need at the outset, the Illumina team is good at co-creating that solution and making informative recommendations."   Rebecca Jackson Stoeckle Deputy Center Director, Center for Research on High Risk Behavior Health and Human Development Division, Education Development Center