Online Learning Communities & Portals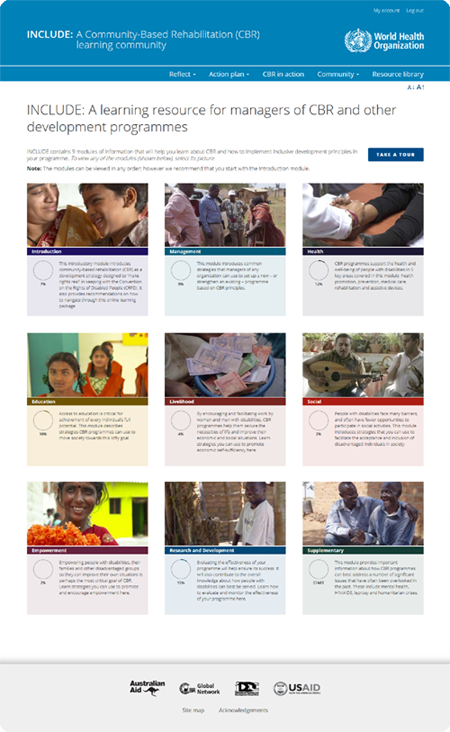 Recently, clients have been asking us to design and build customized platforms that create online communities of shared practice among their constituents. With these systems, not only can learners access e-learning courseware and educational resources, but they can communicate with other users in ongoing discussions, create and join groups, and share reflections and action plans with each other for comment and collaboration. Online communities like these extend the learning experience beyond a single course or curriculum to create ongoing opportunities for growth and knowledge sharing.
Here are some examples of specific projects where Illumina developed virtual learning communities of practice:
At the World Health Organization, a Drupal-based online educational site created by Illumina and partner Education Development Center allows community-based rehabilitation professionals throughout third-world countries to collaborate with each other to develop strategies and programs at the community level to improve the lives of people with disabilities.
For the DelValle Institute for Emergency Preparedness at Boston Emergency Medical Services, in addition to a growing catalog of e-learning, classroom and webinar-based courses listed on the Moodle-based portal, Illumina developed a new wiki-based knowledge base which serves as a growing repository for emergency preparedness resources and topics used throughout the greater Boston public safety community.
For the Substance Abuse and Mental Health Services Administration (SAMHSA) Center for the Application of Prevention Technologies, Illumina developed a learning portal with moderated discussion forums, journals, and other enhanced features. These tools were used with a series of e-learning courses Illumina created using Moodle, Articulate Storyline and a suite of other tools.
Whether you're just starting down the e-learning path, have a formal RFP, or are ready to start your next project right now, we'd love to speak with you about your needs!
We always welcome a chance to show off our high-impact custom interactive learning! Schedule an online demo of projects relevant to your own objectives!
Want to see some of what we've done with our clients? Take a look at some examples of our work.