Accessibility + 508 Compliance

That Are Accessible to Everyone
In 1998, the U.S. Congress established the Section 508 accessibility requirements of the Rehabilitation Act to ensure that all electronic and information technology that the federal government procures, uses, or develops must be accessible to people with disabilities. Since then, the Web Accessibility Initiative of the W3C Consortium further extended these web content accessibility guidelines (WCAG 1.0 and 2.0).
Illumina is committed to helping clients make their e-learning applications accessible to people with disabilities, including blindness and low vision, deafness and hearing loss, and others. Illumina has over 10 years' experience developing accessible applications including a long history of developing e-learning solutions for U.S. federal government agencies such as the U.S. Veterans Administration, Office of Head Start, Environmental Protection Agency, National Institutes of Health, Substance Abuse & Mental Health Services Administration, and Housing and Urban Development, among others, as well as firms that serve the government.
And more recently, accessibility has increasingly become an important objective for many of our non-government clients as well.
What our clients say about us
"It was great working with you over the past few months. I'm really proud of the product we are rolling-out. Thanks for all your patience and tenacity in making sure it is accessible to all."
Loren Mikola
Disability Inclusion Program Manager
Microsoft—Global Diversity & Inclusion
Approaches to Accessibility
At Illumina, we make sure to use e-learning software development tools that can build accessible applications, and we test our courseware with assistive devices such as the JAWS and NVDA screen readers. We have engaged groups such as the National Center for Accessible Media at WGBH as well as the Accessibility Services Group at the Carroll Center for the Blind to provide third-party evaluations and audits of our applications.
Developing fully accessible e-learning applications isn't easy. It often needs to start at the beginning of a project, with the instructional designer consulting with the developer to explore how intricate interactivity can be made accessible or how a comparable accessible experience can be implemented for use with a screen reader.
Contact Illumina to learn more about accessibility and Section 508 and WCAG compliance and how it affects e-learning development. For more information about the law, you also can visit www.section508.gov.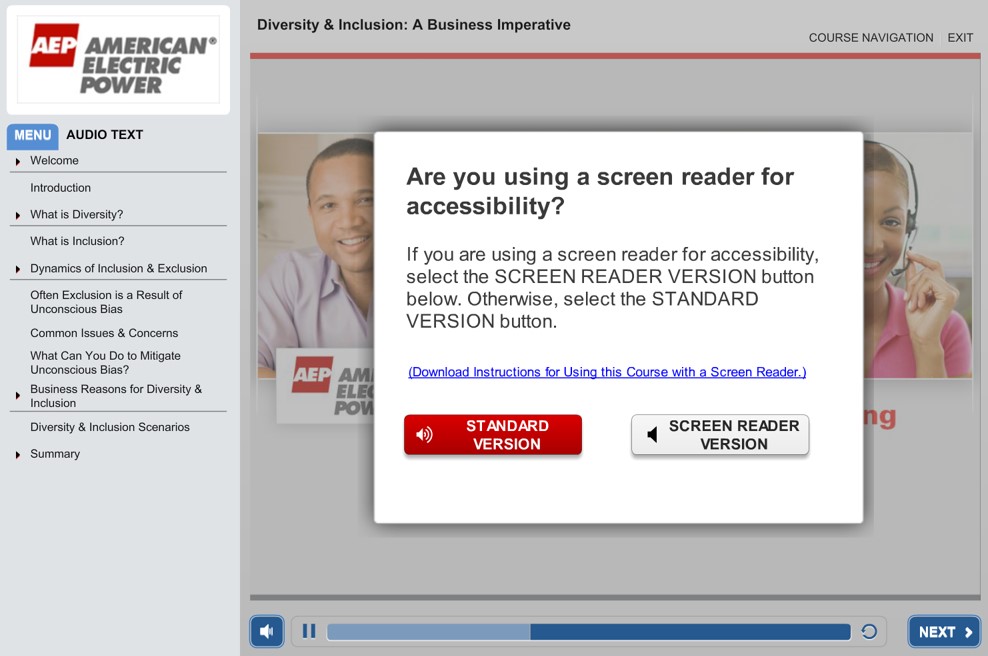 Speak with us about your project
Whether you're just starting down the e-learning path, have a formal RFP, or are ready to start your next project right now, we'd love to speak with you about your needs!
Request A Live Demo Deep-Dive
We always welcome a chance to show off our high-impact custom interactive learning! Schedule an online demo of projects relevant to your own objectives!
Experience Our Self-Paced Sampler
Want to see some of what we've done with our clients? Take a look at some examples of our work.