Course Updates: Planning Prevents Problems
Posted by Jean Marrapodi on Thu, 11/17/2016 – 10:33
Have you ever needed to revise an existing course? Perhaps some facts changed, or the opener with a video of the CEO needs to be replaced because she has retired, or (heaven forbid!) your company has rebranded itself and you have to change all of the colors and the logo of the entire course. Each of these requires a different work effort, so you'll want to plan your time accordingly.
Edit/Revision/Overhaul
Editing an existing course is similar to what happens when you buy a house. There are small, medium and large changes that can be made, which we'll label edit, revision and overhaul. Let's explore the analogy.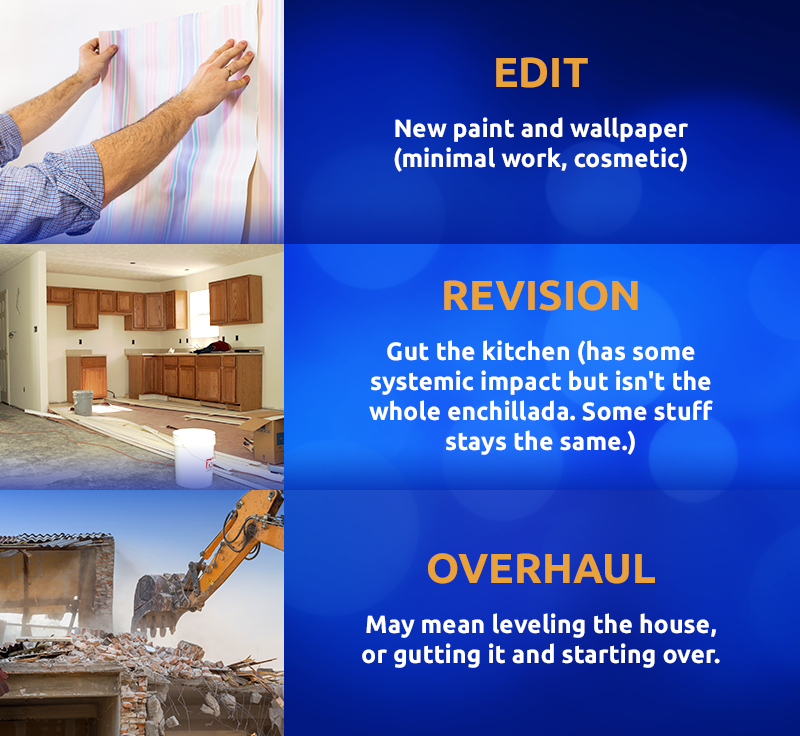 Edit
Some houses are in mint condition, only needing paint or a little wallpaper. We'd call these EDITS in our update scenario.If you need to update a word or a fact here or there, it's generally pretty easy, using Find and Replace in most elearning authoring tools. HOWEVER! if you have voiceover narration, it gets a bit more complex. We can't do find and replace with audio having the same voiceover talent read the word that needs replacing. They must re-record bigger pieces, then the spots need to be pinpointed in the audio file and those sound files need to be edited into place. We also have to assume the same talent is available. If they aren't, then this type of edit is more complex and may move to the next level.

Revision
Other houses need more work. How about this scenario? Most of the house is fine, but the kitchen hasn't been touched since 1970 and your partner refuses to move in until a dishwasher is in place. If you've ever lived though a kitchen remodel, you know that it has systemic impact and disrupts more than the one room. Similarly, when we revise a course with new content, it tends to impact more than the single section being updated. Good elearning references content that is coming, or reviews what has been covered. Are there areas here that need to change? What about review questions, puzzles, and quizzes? Is the old content referenced somewhere that isn't obvious? Be sure to comb through the entire course to ensure that you've caught all of the references. You need to consider this when you're rearranging content as well or your learner will be lost.
Another elearning revision occurs when company branding has changed and all of the colors and logos need to be changed throughout the course. Changing color not only impacts fonts, but graphics may no longer work with the new style. This is a labor intensive project, as every screen must be touched. Take heart! There are ways to make this easier, which we'll cover in planning.

Overhaul
Some homes are advertised as "Handyman Specials". As a buyer, you expect to put a lot of work into something like this. Sometimes you have a whole new system to install — the original house didn't have air-conditioning; the e-learning equivalent might be adding audio narration. Then there's the house that needs a major addition — this is comparable to the course that needs major new sections added. When you're building the original elearning, if you know in advance that this is likely, you can sometimes plan the spot(s) for it, to make it easier to do when the time comes.
Finally, beyond the handyman special, there are properties for sale that are referred to teardowns. People purchase them for the land and expect to knock down the home and start all over again. In our elearning world, this is the course that needs substantial work. Perhaps content is being shifted around with significant editing, or a course being updated from the page turner (yawn) to one that is truly interactive. With courses like this, sometimes we find it easier to start over from scratch. The process goes quicker than an initial build, but it's still a labor intensive process and time needs to be planned for. It's not a quick fix, for sure.
---
Tips When Building with Content that May Change
If you are building an elearning course with content that may change, there are a few things that you can do that will save you grief when the change comes.
Use evergreen elements. Instead of putting the name and number of an employee to contact for more information, create a generic mailbox that can be reassigned to new staff when there is employee turnover. ComplianceQuestions@yourcompany.com is something employees will remember over a specific staff member.
Write timelessly. Be careful about mentioning events as recent. Instead of saying "Last year", use "In 2015".
Consider trends. Clothing and hairstyles change. If you want to make something edgy, consider how today's edgy is tomorrow's dated. If you expect your course to last for a long time, leverage unchanging classics.
Use image libraries and templates for logos. If you have lived through a rebranding effort, you know the pain of changing a plethora of details. When a logo is a background element, changing it in the library cascades it throughout the course with one substitution in the library. Similarly, CSS (cascading style sheets) and leveraging the functionality of defined heading level styles allow you to change colors and fonts at a master level.
Use linked media hosted on a media server. When you have key business leaders or employees introduce something in a course, subsequent staff turnover can create problems. Consider linking out of the course to a media server for these elements. When the staff changes, swapping out the video into that spot is much easier.
Ensure Your Content Remains Current
A good elearning library has a good review cycle. One way to ensure all of your courses stay up-to-date is to assign a business owner to every course, and ask them to review the course every year (or more often if your content is changing). TIP: Consider having the busy program manager delegate this responsibility to a junior staff member. This added responsibility of ownership is taken seriously at this level, and less likely to be relegated to the back burner when the owner is an overburdened manager. Many learning management systems allow you to set this functionality to generate a reminder.
We asked our customers how they manage the review cycle and here's what we heard.
Cheryl Keenan, Senior Associate at Abt Associates in Cambridge, MA shared that they have a government client for whom they have to review a series of e-learning modules each year and update them with regulatory changes and new examples. They use the annual start of the reporting cycle every February as their reminder (and deadline) to review and update the modules.
Andrea Doan, Regional Facilities and Environment, Health & Safety Manager at Boston Scientific in Fremont, CA shared that her department is responsible for yearly reviews to keep their facility's training content up to date. They divvy up the content into sections and assign a different section to each member of the team.
Inquiring Minds Want to Know
How do you manage your revision cycle?

We keep a calendar in the training department and contact the SMEs.
We use the features in the LMS to remind the SMEs.
The SMEs who own the content are responsible to notify us.
Other

How often do you review your elearning content?

Quarterly
Every six months
Annually
Every other year
It depends on the course
We don't review on a regular cycle
It's All in the Planning
There are some additional things that, if done in advance, make the revision process easier. When a course is first created, you can think quickly about what the revision characteristics are likely to be, and design for that. In some cases, the approach can be very general, such as creating a repository in advance to house all the suggestions for changes when a course is revised, so you don't have to scour through old e-mails, documents, etc., to gather all the different change requests. Otherwise, you run the risk of having changes be "rediscovered" during the revision, making the update take longer and cost more. In other cases, the revision expectations can be reflected in the design. For example, if you anticipate the number of revisions will be high and/or the cycles numerous, realize that you may not be able to get the same voice talent for the narration each time you have to make updates. You might be able to use two narrators, giving you better odds of at least having one of them available if you have to make audio changes later. While this costs a bit more in the beginning, it will save headaches if revisions are needed.
Plan ahead. You'll thank yourself for thinking through these details on your next course. Eliminate items that will make your content go stale quickly. When someone comes to you with a change request, ask them if it's a "Need to Have" or "Nice to Have". If it's necessary, consider what the impact will be on the whole course. Just like a home owner, sometimes it's better to make due with a note taped over a quirky light switch than to overhaul the entire electrical system.
At Illumina, we're always here to help when you need it. If you've got something coming up, do let us know so we can block time out for you.
About Illumina
Illumina is a full-service learning course and systems development firm, serving corporations, government agencies, non-profits, associations, and educational institutions. From a diverse set of customer projects and learning experiences, we offer Illuminating Ideas — practical and thought-provoking comments on various topics for learning managers and development practitioners.