Scoring Extra Points at the Kickoff (Meeting)
Project kickoffs: What's your team's game plan?
Hut… Hut… Red 32… Omaha… Set… HIKE!
Yeah, you can probably tell that some of us are getting a little antsy with football season still so far off, and just can't wait for that opening game kickoff. And speaking of kickoffs, we have a lot of them in our industry. We've learned a few things we'd love to share with you about how to plan ahead for really productive kickoff meetings that start e-learning projects off on the right foot.
Football fans know that the coach of a winning NFL team doesn't come to the kickoff without a plan. The team has been studying up, watching the tapes, and going over the playbook. They've worked out a pretty solid strategy and they're ready to play.

Likewise, project managers and project teams of learning initiatives need to come to their own kickoff meetings with well-defined strategies. For your learning project to be successful, it really needs to be a win-win for both you and your client. You both need to make the best use of the time beforehand to prepare for its success, and you both need to come to the kickoff meeting with a winning end-game in sight.
---
Preparing for the Kickoff
As the project manager, you'll be acting as the coach to plan and prepare.
Besides formally initiating work on the project and introducing all the players to each other, an important goal of a kickoff meeting should be to leave your client with the certainty that you've assembled the right team on their project, and that they can rest assured that they've put their project in good hands.
But all too often, teams end up scrambling to prepare for the kickoff, and the project doesn't get off on the right footing.
Which of the following sounds like a situation you've encountered before:
The contract doesn't get signed until the last minute and there isn't enough time to prepare adequately for the kickoff meeting.
Your client doesn't have all the stakeholders assembled or apprised of the new training initiative.
One or two of your clients' team members don't really know why they've been invited to the meeting.
Your agenda looks like this, without any details:

Introductions
Roles & Responsibilities
Objectives
Project Schedule

You don't have clear goals for the outcome of the meeting.
These are all situations that can be avoided.
It's best to shoot to go into a project kickoff meeting knowing what you want to get out of it, and anticipating how you want the meeting to proceed.
Teams that are headed for greatness are the ones that plan ahead. The time you have in advance of the kickoff meeting should be seen as an invaluable Project Readiness Phase that can get the project off on the right footing. And as the project manager, it's your job to use that time wisely.
Know Your Players
In advance of the kickoff, try to get the following information and materials from your client counterpart:
Ask your client who will be attending and what will their role be on the project? What is their familiarity with the subject matter and desired goals and outcomes?
Ask for the important (and pertinent) content materials that can be handed off – ideally receive and share those materials with your own team in advance of the meeting.
Get a sense of how your client will measure the project's success when it is done.
Pull your client's and your project team's contact information together in advance and make it available at the meeting. Mention any special collaboration tools your team intends to use to ensure smooth communication, such as Teamwork, Basecamp or Sharepoint, and explain that you'll follow up with specific training so everyone can use them effectively. Find out how your client prefers to be communicated with: is theirs an e-mail culture? A telephone culture? Find out in advance about important company dates, conferences, meetings, holidays, team vacations and other items that may impact the schedule.

Explain the Playbook
Prepare for the kickoff meeting with your own team – share as much about the project scope as possible so that everyone is on the same page. Make sure they've reviewed any content materials you've received in advance, and at a minimum, go over the kickoff meeting agenda and everyone's roles at the meeting and afterwards as the project starts up. Check whether they have questions about your process or approach – this is pretty common with projects involving contractors.
Go into the meeting with a sense of what you expect the action items and next steps to be right off the bat so that everyone leaves the meeting knowing their immediate responsibilities.
Kickoff Time
You've prepared your team well. Now it's time to engage.
Share the Schedule
In the kickoff meeting itself, don't worry about going over the project schedule in detail – that can be real deadly. Instead, stay high-level – focus on the key phases of the project and specifically on where members of your client's team will be pulled in. Be ready to talk about how long they should expect it to take them to review a typical 10-page Word content outline, or a 50-slide PowerPoint storyboard, or a 30-minute Alpha e-learning module. Go over the ways you will expect to receive feedback from them, and gauge their reactions. We have a document that we share at kickoff meetings that describes each deliverable in detail, the kind of review required and what kind of feedback is expected from the client. Check for understanding and be ready to propose ways that will make it easier for them to provide their input in the most efficient ways possible.
---
Prep for Problems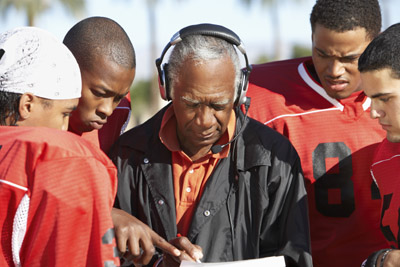 Talk about possible stumbling blocks – the kinds of hurdles that you've experienced and can come up and slow down a project. Talk about the kinds of change requests and course corrections that can impact the process, time and costs.
Remember, you want everyone to leave with a clear understanding of the team's goal, their own roles, and how to deal with both the expected and the unexpected.
---
Some Closing Words
The kickoff meeting is behind you, and everyone – your team and your client's – is excited that you've all really gotten your heads around the project and pumped to dive in and get to work! There's a lot to be done, but you're all looking forward to working with each other and you and your client counterpart will be there to make sure things run smoothly! As the project manager, you'll prepare, then coach along the way, but you also need to be the cheerleader to ensure the momentum continues to drive forward. Plan, Prepare, Prop Up, and sometimes Prod. You'll get the job done. Do it well, and you're on your way to scoring those extra points!

---
Additional Reading
Here are a few other articles and blog posts you may find useful: