Continuous Improvement – Examine the Obvious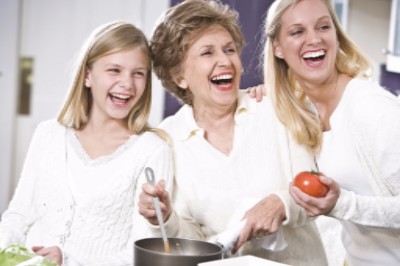 Ten-year-old Ashley perched on the kitchen stool watching her mother prepare the ham for Sunday's dinner. "Mama, why are you cutting the end off the ham?"
"You know, sweetheart, I'm not exactly sure," said Mom. "That's the way my mother always did it, so I assumed that's the way it was done. You must always cut an inch off of the smaller end."
"It seems like a bit of a waste, doesn't it?" asked the little girl.
"I suppose so," said Mom. Let's ask your grandmother when she comes for dinner. "Maybe she'll know why."
At the dinner table,  Ashley leaned over toward her grandmother, and with a note of intent seriousness, leaned in and asked, "Oma, why do we cut the end off of the ham when we prepare it?"
Oma laughed loudly, saying "Darling, I grew up thinking that's just the way you do it.  I'd learned it from my mother, and your mother learned it from me.  But late in Urgroßmutter's life, I asked her about it, and she told me that she originally had to do that because her pan from the old country was too small for American hams.  There's no reason to do it today."
The moral of the story? The unexamined process is not worth completing. So it is with the processes we follow on many of our projects. Some things we do because they are necessary; others out of habit. It's time to step back, take a look and see what things we can make better.
Improving Our Processes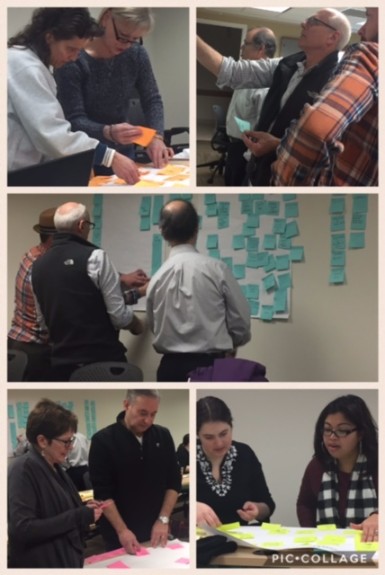 This January, our team took an entire Friday for a Process Improvement Day. We brought in the entire team so everyone's voices could be heard, knowing that creativity is sparked through one another. Equipped with flip charts, markers and a LOT of Post-It Notes, we stepped back to look at the way we do things at Illumina with a single-minded goal: to examine for improvement.
Start with a SWOT
We began with a SWOT analysis, considering our Strengths, Weaknesses, Opportunities and Threats examining the big picture around our company, and uncovered a few ideas you'll see in the upcoming months. The fun part of the SWOT analysis included multiple pages of our strengths, some interesting ideas about ways we might market ourselves, and raised an awareness of the market trends we all need to keep in mind. 
Looking at Processes
Next, we broke into small groups and began to build flow charts of the different aspects of our processes for building elearning — instructional design, graphic design, etc. — looking for problem spots and red flags. We leveraged the work of UK based strategist Ian James, (check out his work at The Process Consultant) reviewing his helpful videos for trouble spots. As each team shared their piece of the process, the others added thoughts about troublesome areas and possibilities for improvement. We asked a lot of How Might We questions to figure out better ways to do things as we identified issues.
Voice of the Customer
Finally, we listened to the voice of the customer, reviewing William West's work with Brandon Hall on Content Development Outsourcing, a study what customers liked and found frustrating working with elearning vendors.  In the study, customers' #1 dissatisfaction with their vendors had to do with quality of the provided deliverables, and that got Illumina to focus on what we think we do to ensure quality and areas where it could be enhanced.
What We Learned
In the end, we recognized a variety of things we could be doing better. We recognized the impact of customer review delays, and decided there are a variety of things we might do to help avoid that.
Clarifying our processes for our customers during the kickoff will help everyone know what is happening when and enable us to stay on track.
Defining terms like graphics treatment, storyboard, alpha, beta and final will eliminate confusion around their function
Better defining the review process will enable clients to focus on specific areas and skip worrying about things to be developed later
Bringing the whole team together early in the process lets everyone brainstorm and start off on the same page. We hand things from one area to the other, and having everyone aware of what's going on from the outset lets them pick up the project with some background as they begin work.
Keeping a budget dashboard helps everyone be aware of how much time is available and what remains.
Taking Action
We compiled a list of action items and developed a strategy to document our processes so we can work better with you, our customers. In the coming months, you'll see infographics and charts that we'll use to be more efficient in our work with you. We'll eliminate some redundancies, provide better handoffs, and offer directions to help all of us be on the same page. We're also extending the shared use of TeamWork across our projects, to provide a centralized communication portal and information repository for the development components of the projects we're working on. This makes life easier for us, but also for customers as we'll all have access to the same information.
So What?
Reflecting on experiences encourages insight and complex learning. We encourage reflection in the learning we build, creating deeper discoveries for the learner. We believe in continuous improvement, so stepping back last month and examining how we do our work allows us to get better at what we do.
What's all this mean to you? Perhaps it's time to step back and look at your elearning processes. Interested in doing this workshop with your team? We can help. Just ask.
---
We Thought You'd Like to Know

Shameless Bragging: Illumina Receives Two More Omni Awards
Illumina Interactive and its partner Interactive Business Inclusion Solutions (IBIS) continued their winning collaboration with two additional Omni Silver awards for a new series of e-learning modules on Unconscious Bias. One award was in the Business category, and the other in the Social category.
The Unconscious Bias series consists of four modules, to provide 1) a general introduction to the topic, 2) specific material for recruitment and hiring activities, 3) focused guidance on career development, and 4) practices and techniques for cultivating an inclusive culture. IBIS began offering the Unconscious Bias series in the summer of 2016, and it has been deployed successfully for a number of clients. For more information on Unconscious Bias, see http://www.ibisconsultinggroup.com/unconscious-bias/.
A New Face in Our Place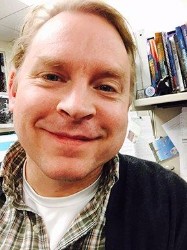 We are thrilled to announce that Jason Kramer, an award-winning e-learning designer/developer has joined the Illumina team. Jason was an integral part of a team that won awards from Brandon Hall, United States Distance Learning Association, and was recently nominated for a Rhode Island Tech Innovator award for his cutting-edge e-learning developments at Citizens Bank. Jason brings a spark of creativity and excitement to our team and we look forward to his talented input on our project portfolio. 
Illumina is a full-service learning course and systems development firm, serving corporations, government agencies, non-profits, associations, and educational institutions. From a diverse set of customer projects and learning experiences, we offer Illuminating Ideas — practical and thought-provoking comments on various topics for learning managers and development practitioners.