The Nuts & Bolts of Illumina's Development Process Toolkit
A custom eLearning design and development firm like ours uses a diverse blend of creative design, media authoring and programming tools in our business. However, from time to time we get asked about the kinds of tools and applications we use to manage our elearning and blended learning projects, as well as what we do to organize and coordinate all the files that are generated as part of our development processes.
In this article I'm going to highlight a very important subset of the key tools that we've adopted widely within our organization for our own teams and for our clients:
Teamwork Projects (www.teamwork.com) is one of the leading cloud-based project collaboration systems that lets teams plan and prioritize tasks, assemble and collaborate on files and documents, communicate and track projects;
Slack (www.slack.com) is a leading cloud-based instant messaging platform that also comprises a whole suite of collaboration tools. (FYI – "Slack" stands for "Searchable Log of All Conversation and Knowledge");
ReviewMyElearning & Articulate Review360 (www.reviewmyelearning.com and www.articulate.com/360/review) are two of the leading e-learning review systems that we've used to better manage our own internal reviews as well as our clients' reviews of our e-learning modules.
Before I dive in, let me say, though, that a custom service company like ours needs to be flexible, and sometimes our clients have tools they prefer to use instead – such as Basecamp, Sharepoint, Monday.com, and others. Of course, we rely heavily on all the tools in the Microsoft Office and Google Docs suites as well. And, it's no longer possible to do business without online video conferencing software, like GotoMeeting, WebEx, Zoom, and others.

Teamwork Projects
Several years ago, we realized that we needed a more efficient company-wide project management and team collaboration solution. Our project managers were using a variety of disparate tools to create and maintain task lists and project schedules including Microsoft Project, Excel and Word.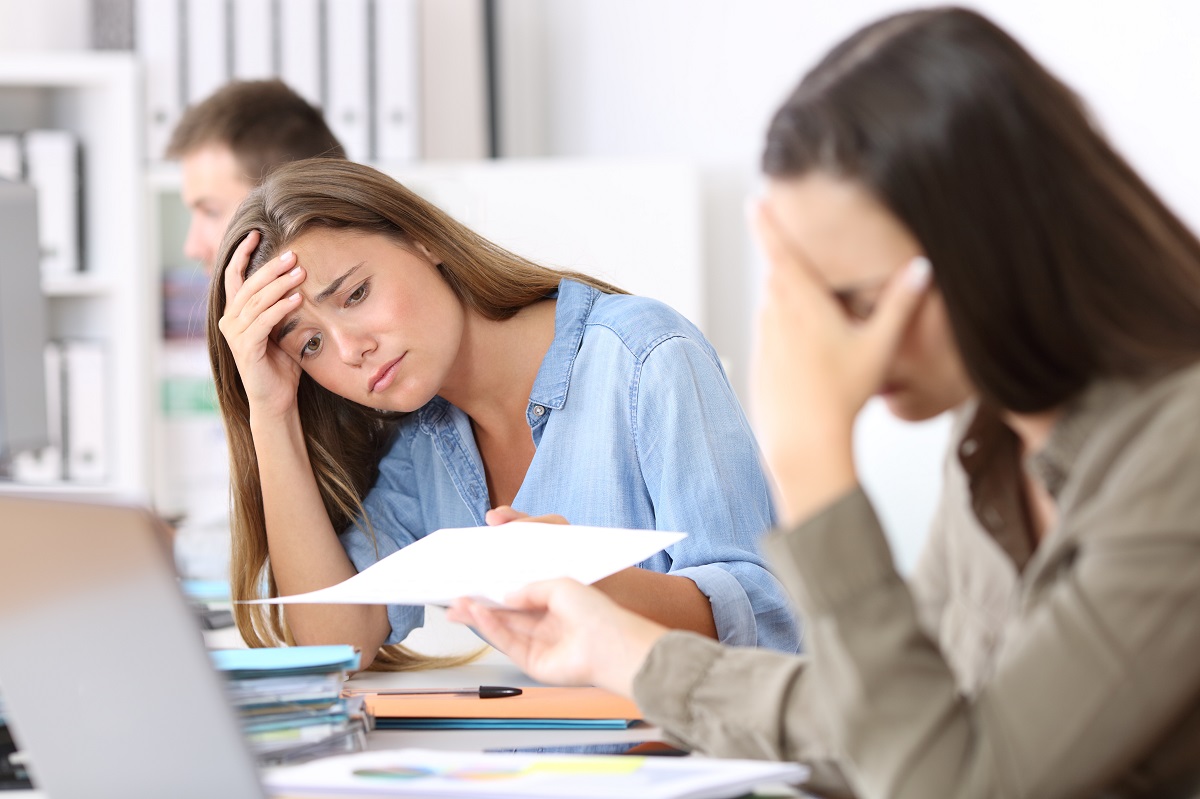 Our project teams were using a variety of approaches for organizing project documents and media assets, and even more ways of sharing files with remote team members and clients, including our office network, extranet, FTP site, our clients' FTP sites, Dropbox, Box.com… you name it. And important communication around each project was stored in individuals' email mailboxes.
We looked at a number of file-sharing and project collaboration systems and settled on Teamwork Projects. We've been using it since 2012. As you'd expect, a number of our staff members were "early adopters" – jumping to take advantage of all of the platform's features, while some others had to be "dragged" along before giving up their tried and true methods to switch over to new systems.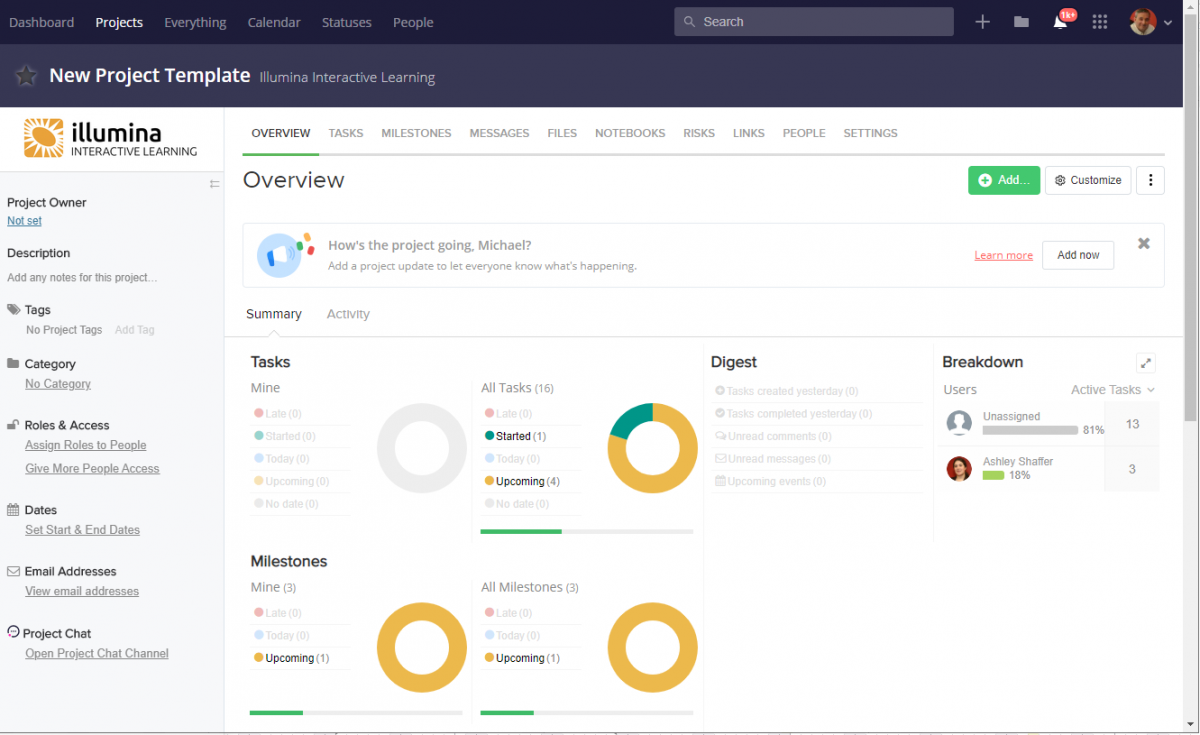 These are just some of the key features we really like about Teamwork: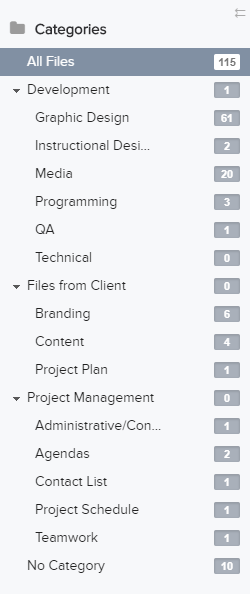 File organization and versioning
We can easily create a meaningful hierarchy of categories where all a project's files can be stored, accessed and viewed.
We've saved all the standard file categories (among other things) in a "New Project Template" that we use whenever we need to set up a new project area in Teamwork.
Teamwork maintains all the versions of a file, with the team member who posted it, date/time, and other data – great for version control!

Microsoft Office integration
Team members and clients can make changes directly to the documents – Word, Excel, PowerPoint, etc. – without having to download and save the file.
Notebooks
We keep sets of standard wiki-style "notebooks" for each project, including:

Project goals and objectives
Key decisions and questions for SMEs and other project team members
Status meeting agendas and minutes
Delays and risks
Project scheduling
We can easily set up milestones and detailed task lists as well as complete project schedules, and view them in a hierarchical list view, as a detailed Gantt chart, and even as a "Kanban" board, which lets us visually depict the different stages of our processes and use cards to move work items through the process.

KANBAN IN ACTION: In one example project to develop a large series of microlearning modules, each item (storyboard, script, e-learning review version, etc.) needed to be reviewed and approved by certain stakeholders and then passed along to the next reviewer. The team set up a Kanban board view with columns for each stage of review. As each reviewer completed their assignment, they moved the corresponding item to the next column. Triggers built into Teamwork Projects automatically notified the next person that it was their turn to review the document, so team members didn't have to remind other project members to take over.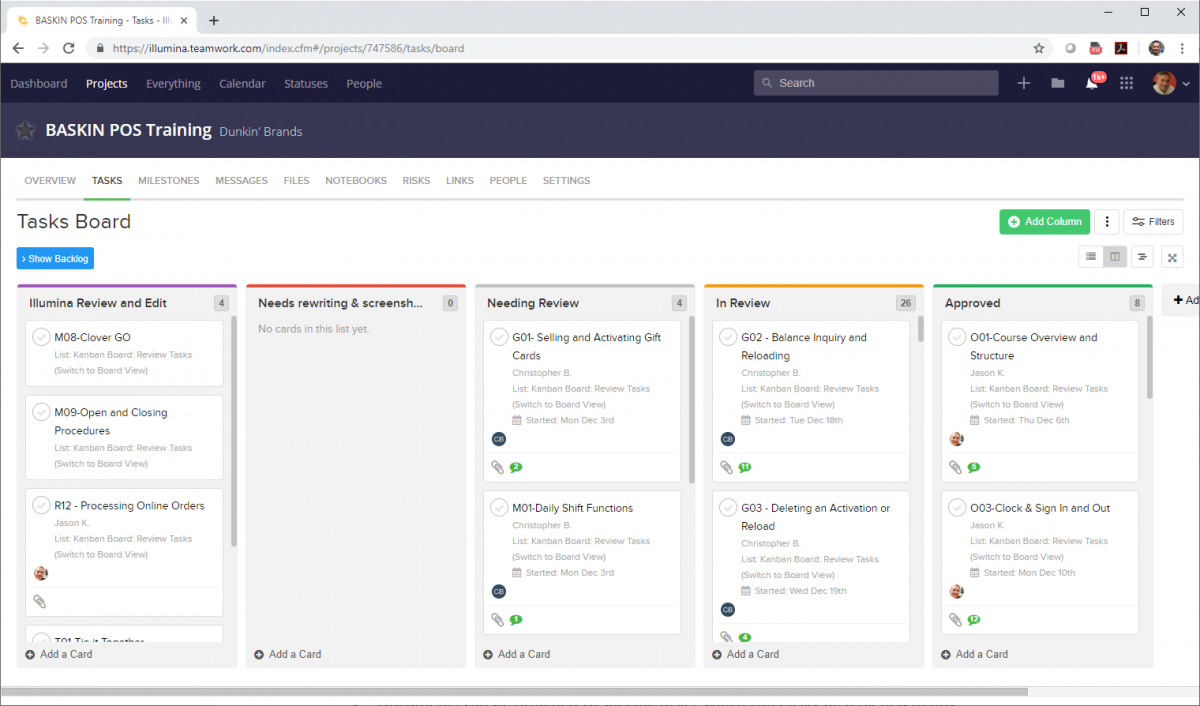 Documents can be attached to specific tasks, which can easily be assigned to any member(s) of the project team.
We can also easily import standard task lists and task list templates from other projects that share the same steps and processes.
Project team management, privacy and permissions
Each project owner sets up the Illumina and client team members on the projects and can send them automated invitations to join the project area.
Whenever a file is uploaded or updated, a notebook created, a task added, etc., it's privacy is set so that all members of the project team – or only certain members – are able to view it; likewise, we can also set exactly who on the project team should be notified about updates to specific items in the project area. We use these permissions to easily collaborate internally on a file, and then add client access when it's ready for client viewing and input.
Messaging
Besides being able to post (and reply to) comments directly to files, notebooks, tasks and milestones, Teamwork has a "Messages" area that works great for project communications. Rather than simply sending an email, composing the message in the Teamwork project area generates emails to each recipient's regular email program, but also allows us to keep track of the communication throughout the life of the project.

Slack
Slack calls itself a "collaboration hub for work" and it's just that – a cloud-based instant messaging platform that makes it easy to communicate with co-workers – as well as vendors and clients – in a secure, organized environment.
These are some of the ways we use Slack and some of the features we rely on: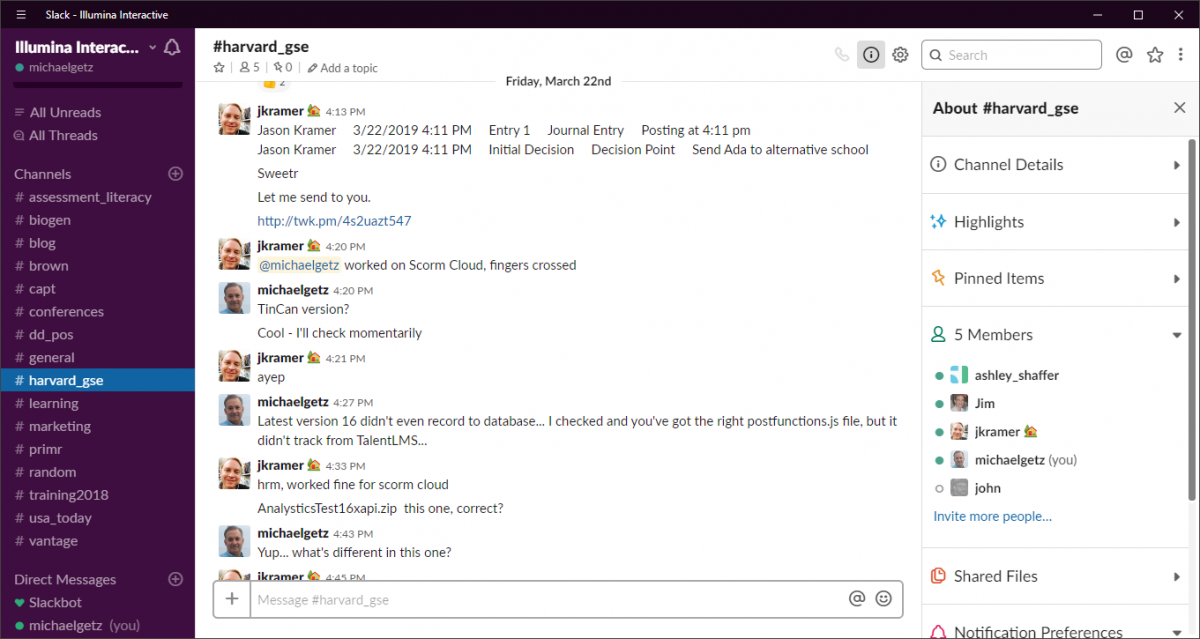 Communication
We like to use Slack for internal project team discussions, and for the virtual office-like environment it provides, since some of our team members are virtual. The robust and simple messaging options foster all of those project micro-discussions that occur throughout the day that move a project forward. We find even the basic features valuable, such as how easy it is to see read and unread discussions, and the ability to mark a discussion as important.
While not necessarily a basic feature, Slack integrations are a great way to connect Slack to other apps you may use at your company. For example, there is a Teamwork integration, so if a discussion needs to be documented, or an idea needs to be turned into a task, it can be sent directly to the project in Teamwork. You can then receive a Slack message when you receive a Teamwork notification.
Project Channels
We are typically working on a variety of projects at any given time, and so we find it helps to keep organized with separate project-specific channels in Slack. This way if you leave your desk, when you return you can easily see the project-specific discussions that happened, as opposed to wading through one big chat channel or email exchange.
Slack makes it easy to create channels, to see who is in the channel and to view the current discussions. For those times when one channel has a valuable discussion that another project channel should hear about, you can share the discussion with the other channel or channels. Slack makes it incredibly easy to do this sort of discussion sharing.
Sharing
A project team is constantly sharing documents and graphics so that the rest of the team can provide quick feedback. Slack makes this process incredibly easy – just drop the document, image, or URL right into the channel, and everyone in the channel now has access. The team members can quickly see and comment on the item, without the need for leaving the tool. This makes the process of rapid feedback much quicker, and keeps team members focused on the item.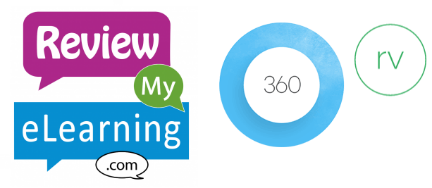 ReviewMyElearning & Articulate Review360
We use one of these two intuitive e-learning courseware review tools on practically every project we create at Illumina. (There are other well-known elearning course review tools out there, like Trivantis' ReviewLink and zipBoard.)
ReviewMyElearning works out-of-the-box with Articulate Storyline and Studio 360, Adobe Captivate and Presenter, Lectora, iSpring and other common elearning authoring tools. Articulate Review360 is the elearning review tool that comes bundled with Articulate 360.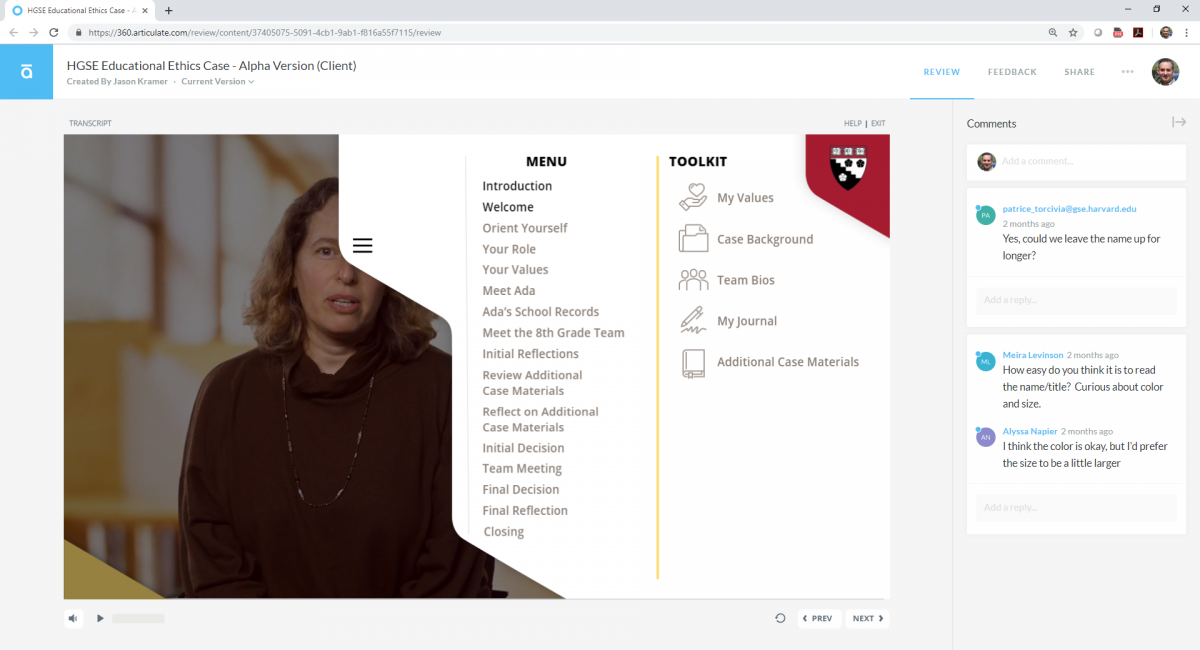 Both tools let us post review versions of our elearning courseware online, and invite SMEs, reviewers and stakeholders to view and comment. These are some of the features we like about both:
Once an elearning module, microlearning or game has been uploaded to one of the two review tools, it's a cinch to send out an automated invitation email to reviewers (Review My Elearning) or copy and email the direct link (Review360);
Both tools let reviewers view and comment on a screen-by-screen basis, and all comments are locked to the original screen where a given issue was noted – furthermore, it's possible to respond and discuss reviewer comments right in the tool – to create comment threads – helpful where additional information is needed or one reviewer's comments disagree with another's;
Project developers or other stakeholders can view the feedback on a screen-by-screen basis or export the feedback comments in Excel format (both tools) and PDF format (Review360);
Review My Elearning allows reviewers and developers to tag specific comments as to whether the issue is of a General nature, or pertains to Audio, Text, Graphics, Content, or Functionality;
Each lets you track multiple review cycles (Review My Elearning) or review versions (Review360) – at Illumina we typically produce an Alpha, Beta and Final version of each course;
Review My Elearning lets you export the comments in an Excel spreadsheet that can be shared internally or with clients who simply want a "snapshot" of the comments and progress.
Project managers and other project stakeholders can assign issues to specific developers (Review My Elearning) and mark issues as addressed or completed (both tools).
---
In Summary
We all work with a wide array of design and development tools in our daily work, and the tools mentioned above have really become central to our company's ability to manage and organize  our projects and processes effectively and efficiently.
We hope that this view into the tools we've chosen, and more importantly what specific practices and features we utilize to get maximum benefit, is valuable for your own work. We look forward to hearing about the tools you work with as well! Feel free to send us a tweet @IlluminaLearn and use the hashtag #toolsweuse!