Illuminating Ideas – Join the Journey
Posted by Jean Marrapodi on Thu, 10/06/2016 – 16:26
Welcome to the inaugural edition of Illumina Interactive's blog: Illuminating Ideas. Twice a month, we'll be writing about learning: sharing our stories, exploring best practices, and wrestling with new ideas and trends in the marketplace.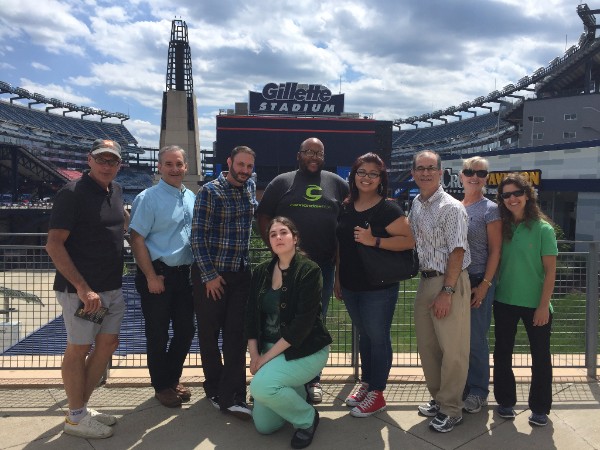 The Illumina Creatives: Hal, Michael, John, Ashley, Keith, Karen, Jim, Maggie and Carrie
What Will We Be Sharing?
Great question! As a learning provider partnering with companies to develop their learning, we bring a unique perspective to the marketplace. We see trends as we attend conferences and association meetings, speak with customers and colleagues, watch webinars and keep up with industry reading.
---
We're ever sharpening our swords to stay on the cutting edge of best practices. We hear the unique needs in different industries as we provide solutions for our ever growing client base. We'll share what we're seeing, but we'll also deliver specific ideas for learning management and learning practitioners. For management, we'll explore the best ways to leverage outside developers like us, ways to streamline your processes and make production more efficient for all of your stakeholders. For practitioners, we'll be covering some nuts and bolts topics like building scenarios, attention-grabbing introductions (hint: it's NOT a list of objectives!), graphics selections, as well as generalized topics like Universal Design, leveraging social media, user experience design, creating learning communities and ways to extend your learning arm into the workforce to help them get better at the things they need to do. We're all about meeting needs. Let us know if you have something specific you'd like to know about.
---
Who Is Illumina Interactive?

We are a team of talented and experienced learning professionals. Since 1997, Illumina Interactive Learning has transformed its clients' educational challenges and training needs into distinctive, effective technology-based learning solutions. Illumina is a full-service development firm that helps clients like you achieve their strategic learning goals. We make it easier to rapidly develop and deploy the optimum e-learning solutions for their organizations' needs. Between us, we have over 200 years' experience on more projects than anyone can count.
---
Our Goal
Our goal for this blog is to provide practical content that stretches your boundaries and stirs up conversation in your organization. As innovative thought leaders, our desire is to help you grow professionally, and make learning come alive in your organization. Illumina has served nearly 100 companies, government agencies, and academic and non-profit institutions, building a long track record of successful e-learning development. Join us on the journey as we noodle together. If there's something you'd like to hear about, drop us a line. That's what we're here for: to serve your learning needs and continue to build great courses.
Coming in October
Creative, Engaging and Affordable? Yes, It's Possible.
Irresistible Introductions: The Value Added Hook