Happy Holidays from All of Us at Illumina Interactive
With the busy-ness of year end close and holiday preparations, we trust you'll be making new memories for the future this season. Here's a few of our favorites from years gone by.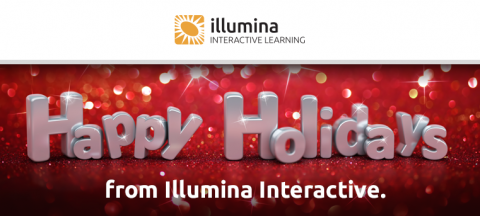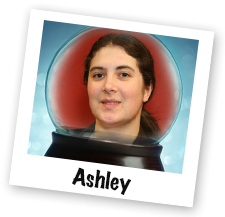 One year, my family got together at my grandmother's house to open presents. We couldn't open anything until everyone arrived, which ended up being late in the afternoon. We'd prepared an early dinner, which was cooling down on the kitchen counter as we opened presents. We were halfway through opening everything when we noticed all the family dogs were missing. After a minute of searching, we found them in the kitchen, chowing down on the unattended turkey.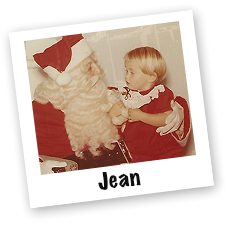 I remember one Christmas when I was about 8 years old. My grandmother was cooking the sausage for the stuffing in her cast iron frying pan. It caught on fire, and I vividly remember her racing through the kitchen with the flaming pan and hurling it out the back door into a snowbank. It became a "Remember when…." tale in our home.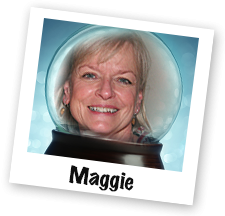 My childhood Christmas memories are about annual traditions with family (and food!). I grew up in a very small town and on Christmas Eve, there was a family holiday party at my great aunt and uncle's farm. All of the young cousins loved looking across the road at all the Christmas lights decorating my family home. My parents spent hours decorating the front windows and door with red/green lights and live greens. Christmas morning was made extra special with Nana Buckley's homemade donuts while we unwrapped gifts from Santa (in red or green tissue paper) and the others from family.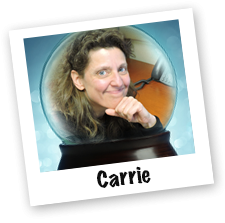 Holidays were always special in my home. I would go downstairs in the morning where mom would be waiting with her sweet smile and warm embrace. No gift after that could ever compare. Best gift ever; mom!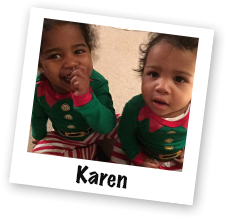 I remember one year most of the family spent Christmas at our home. Us kids, would take turns sneaking around in the midnight hours trying to catch glimpses of what toys were being wrapped up. Our plot was foiled when Mom found one of my cousins asleep on the floor during his shift. Before she returned him to bed, we all made sure to "fall asleep" before she got to our room. As I look at my kids now, just look at those faces, I can only imagine the things they will do just to get that one glimpse. Can't wait.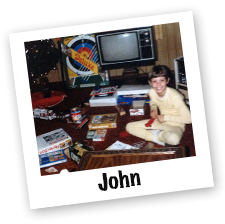 When I lived in California, my girlfriend and I were invited to a friend's for Christmas dinner. She thought it would be a great idea to cook a turkey in her new chiminea clay outdoor fireplace.Well, the turkey wasn't cooking fast enough so she had the great idea of squirting charcoal lighter fluid inside the fireplace to speed things up. Now, I'm no chef, but I told her it probably wasn't a great idea to squirt lighter fluid into an enclosed clay pot. She ignored my warnings and decided to go for it. I decided to watch from behind the sliding glass doors of the kitchen. She sent a stream of the lighter fluid into the clay fireplace and then BOOM! A huge fireball blew out from the clay opening right into her face! It was a sudden, quick flash and then it was all over. She was a little embarrassed, but was not injured in any way… Well, except that she lost both of her eyebrows.
Both. Eyebrows.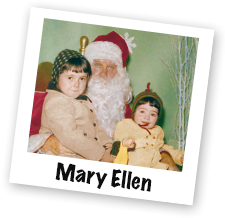 My grade school put on a Christmas play every year. One day the music teacher, Sister Helen, decided to audition all the second-grade girls to see who would get to sing a solo. One after another, the girls in my class went up on stage, but to no avail. Many couldn't carry a tune. I went last. I had no idea what to expect, but, somehow, when I opened my mouth, it turned out that I could really sing. That day led to many years of singing professionally and also, eventually, to my career doing voiceovers.
I always remember how that Christmas play changed my life every time I hear "Santa Claus Is Coming to Town."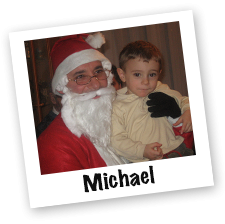 A while back, I remember visiting with my wife's family in Italy over Christmas. I got asked to don the Santa suit and white beard, and come in from the balcony with a bag of toys to surprise some of the younger children who wouldn't easily recognize me. As I exclaimed "Ho-ho-ho! Sono Babbo Natale!" I was just praying to myself that they couldn't make out my American accent. I may have left some Italian kids thinking Santa Claus comes from the States…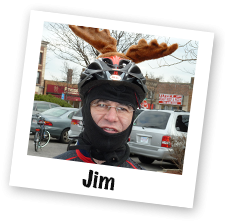 One Christmas we had problems with the tree stand that we were using. Twice in the run up to Christmas Day, including once on Christmas Eve, the stand "let go," with the fully decorated tree falling over, shedding pine needles everywhere, smashing a few ornaments and disrupting the rest, and spilling the water intended to keep the tree moist all over the floor. Although we've been very careful thereafter, visions of those tree crashes have been present for the holiday every year since.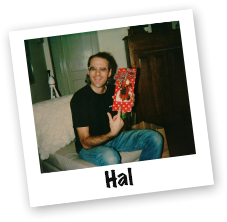 One holiday, about 15 years ago, I had finally succeeded in refurbishing my old childhood Lionel trains, and had placed a simple set around our tree. Our friends were over, with their four year old son. After giving the train a workout, he turned to me with the most sincere look and asked: "Hal, can I have your trains when you die?" His mother looked mortified. Without breaking pace I said, "You can if you'll marry my daughter, since she'll probably be the one to inherit them." I'll never forget how crestfallen he looked, and if he knew I was telling this story now, he'd probably be even more at a loss for words.
---
We hope your 2016 holidays are full of wonderful memories. From our team to yours, Happy Holidays, and best wishes for 2017 to be a year full of learning and adventure. We're so glad you are a part of our journey!