Illumina a Leader in CISCRP's Medical Heroes Virtual Appreci-a-thon 2022
For the second consecutive year, Illumina participated in the Medical Heroes Virtual Appreci-a-thon, an event held by Illumina's client, the Center for Information and Study in Clinical Research Participation (CISCRP). The event recognizes and honors medical researchers, clinicians, caregivers, clinical trial participants and others for their contributions to medical knowledge, technology, and care delivery.
The event allows participants to undertake a wide range of activities, from athletic standards like running, fitness training, and team sports, to everyday pursuits like walking, yardwork, shopping, and playing with the kids. Activity gets converted to miles, and athletes move around a virtual course, for 2022 set on the island of Oahu in Hawaii.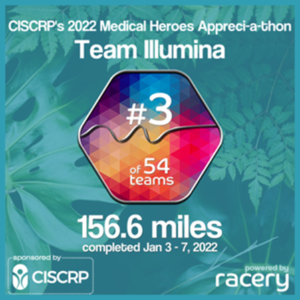 Illumina's 8-person team excelled, finishing the first circuit of the 156.6 mile course just 5 days into the competition on January 7th and continuing to a January 31st total of 926 miles, or almost 6 circuits of the island! Illumina team members ran, walked, biked, skied, sailed and more on the way to a 3rd place finish among 54 teams. Illumina's team also finished 5th out of 54 in fundraising for the event.
On the individual side, Jim Adelson, Illumina's Director of Alliances, finished 1st among 278 participants, with a total of 388 miles of activities for the 29-day event. Hal Stokes, Illumina's VP of eLearning Development (now retired) and Andrea Woodman, Illumina's Learning & Development Strategist also finished among the top 20.
Many thanks to CISCRP for holding this event and offering the chance to participate.