The Top 5 Causes for Delays in eLearning Course Development, and How to Crush Them
Can You Relate?
Posted by Jim Adelson on Mon, 06/04/2018 – 16:35
We've all been there. Working on creating new courses, knowing how much they'll help learners, only to see benefits diminish and enthusiasm wane as the development gets delayed. Not only that, when course development takes longer, it often costs more, too. Illumina staff have taken part in literally hundreds of course development efforts. We're going to share our insights about how to prevent or at least reduce project derailments and delays.
Collecting the List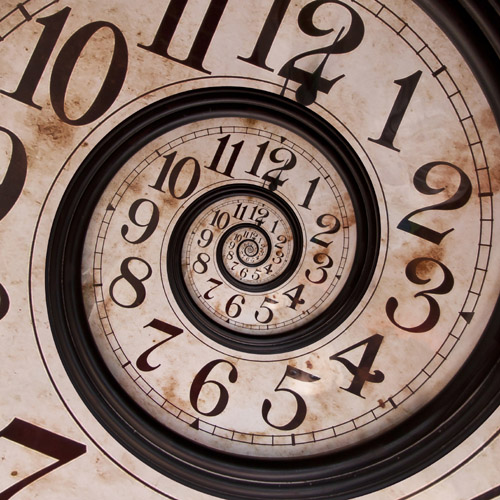 As part of one of our recent company process improvement workshops, as a team, we put our heads together, and came up with a list of more than 25 possible causes for eLearning development delay. Then, considering both our Illumina experience and that with other organizations, we asked each Illumina team member two key questions for each possible cause:
How often do you encounter this problem?
When you do encounter it, typically how long is the delay?
By combining the frequency and severity, we got our Top 5. Then we turned our attention to how to avoid or minimize them. The Top 5 are presented below – in the order that they are typically encountered on a project.
Drumroll: The Top Five Causes of eLearning Development Delays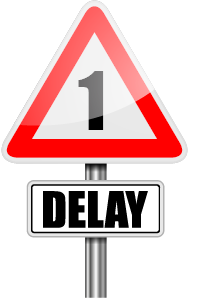 Source Materials for the Course Development Aren't Available
Sometimes, some of the assets haven't been collected, such as source graphics. But more often, the issue is that our client is still assembling or revising content, with reviews incomplete or agreement lacking. This means a partial start, or in many cases, no start at all. From our internal poll, staff had encountered this problem on 25% of projects, and the average resulting delay had been 2.6 weeks.
So how do you thwart this one? Use the project start as a "hammer" to make the deadline more pressing. Or use the time while other project start-up activities are going on, such as assignment of project resources and signing of any outside contracts, as a good time to make headway – don't wait or your project will suffer.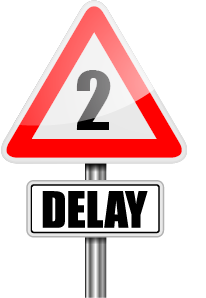 Inability to Decide/Agree on Goals of the Learning
Oftentimes the team responsible for a new course has a tough time reaching consensus on the goals for the learning. By goals we're referring to our client determining what they want their learners to take away from the course, not just how those ideas may be stated literally within course materials. Without this being identified explicitly, projects often languish as the team tries to decide what content to include, and how to judge whether the course content and approach is right, only to have to adjust it later in the development process. In our team's experience, this problem arose in 19% of projects, and wound up costing the project an average delay of 3.3 weeks.
To combat this delay gremlin, first make sure you've been specific about your audience(s), if necessary designating them as primary and secondary, and making sure you're focused on the primary. When considering possible goals, it's often helpful to force yourselves to pick the top 3-5 for your primary audience. Then ask yourself whether you need any others, or can either eliminate them to prevent distraction or possibly should put others in a separate course. Make sure you've also been clear about how you'll know whether you've achieved those objectives, as that will help you choose both what to cover and how to present the material to learners, if you really know what you want them to be able to do upon completing the course.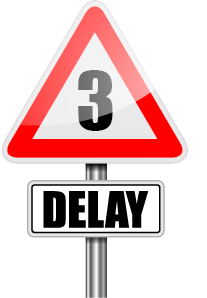 Project Scope Expands Significantly While Underway
From our internal staff poll, this was the problem with the largest impact on project schedules. To take one extreme example, a client who came to Illumina initially saying that they wanted a 15-20 minute course on a topic (before they'd really done much thinking about it) got to 90 minutes worth of material once they collected everything they wanted to cover. They eventually cut back to 60 minutes, but as you can imagine, this expansion certainly slowed the project and enlarged the budget from what they originally expected. In our staff's judgment, they've seen this problem come up in 47% of the projects they've been involved with, yielding an average delay of 3.2 weeks.
Project scope expansions come from many causes. One frequent source during the course of projects are additional needs voiced by stakeholders – sometimes new ones added late in the game. To try to nip this gremlin, identify all stakeholders early and get their input early. Sometimes, there's a hesitation to go to them until there's actually a version of the course for them to see, but holding off this long often introduces new requirements later in the course development process. From our experience, you're better off talking to stakeholders early, so you don't have to change direction later when it's more difficult as well as more time consuming.
Another frequent source for scope expansion comes when you first expose the course to a set of learners. Again, from what we've seen, you'll be more successful as well as swifter in your course development if you get input from learners earlier in the process. This discussion doesn't necessarily require that you show them the entire course. You can often get very useful comments from learners if you describe what you're going to cover and share a few sample screens and interactions, without having to go as far in the development.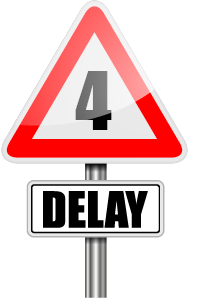 Project Team Reviews Take Longer
Reviews by core project team members sometimes take longer than you plan for. (Note that this is separate from other reviews, such as management, separate SME, and legal reviews). From our collected data, 30.4% of projects experience this issue, and when it occurs, the average impact is 1.7 weeks. Sometimes, it's a consequence of other projects demanding an individual's attention, but just as often, it stems from having too many items to review at one time.
Strategies for avoiding or limiting this issue are pretty straightforward, as long as you think about them in advance. When scheduling your project, be realistic about the review times required and try to stagger multiple items if each one will take significant time. Make sure reviewers know ahead of time when their review effort will be needed. Also, focus the reviewer(s) on exactly what elements you need them to be focusing on. For example, if graphic design for the course is still being revised and developed, prep reviewers so they don't spend time considering and commenting on the graphic design of the version that they are looking at.
Recently, a client shared a specific suggestion on team reviews that had really made a difference for her organization — we'll share that with you. She said that rather than send out the course materials and ask reviewers to return comments, she sends the material out but schedules a meeting of all the reviewers to go over the comments together. This made it much more likely, in her experience, that the reviewers would go through the material when requested, rather than just set it aside until she bugged them about it. Plus, by reviewing it together, the comments and changes were then consolidated and they could work out any conflicts together, rather than leaving one person to try and reconcile contradictory suggestions themselves. A big improvement!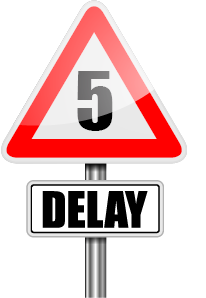 Review Changes Are More Extensive Than Expected
When you get feedback from reviewers, frequently the level of changes requested exceeds what you anticipated. This was the second most common source of delay, after project scope expansions – this one occurred in 41.9% of projects, with an average impact of 2.1 weeks. Most of the time, the magnitude of this problem comes from the fact that reviewers aren't just correcting errors in design and production, since these are usually pretty quick to fix. The bigger issue is that they are often reversing a decision made earlier, coming up with a new way of saying or presenting something, or revising or adding whole content sections. Some of this is to be expected, but many times the quantity of such changes sets the project back.
Some of the strategies to contain this are covered in recommendations made previously to combat other types of delays. Identify and include all the key reviewers, including some target learners, in earlier stages, when the impact of the requests is often easier to accommodate. Ensure that whoever is responsible for consolidating reviewer feedback has a keen and selective eye for what changes really need to be made, and doesn't just blindly accumulate everything that anyone has asked for. Finally, recognize that most courses will go through multiple releases, so there may be requested changes that get deferred to a later release or result in identification and creation of another complete module, rather than holding up the initial course development.
Summary From Our Internal Data Collection
Below you'll see the graphical highlights from the data we collected from our team. The first graph displays the Top 10 delay sources, and how frequently that particular delay occurred. The second graph depicts the Top 10 delay lengths, showing how long that particular delay set back the project when it occurred. The risk and impact of a particular delay combines the likelihood of encountering the delay with its impact. This article has talked about the Top 5 delay producers overall, but there are steps and strategies you can take to avert or minimize other causes as well.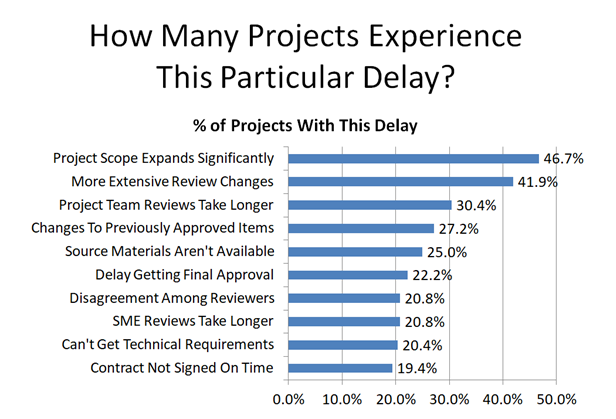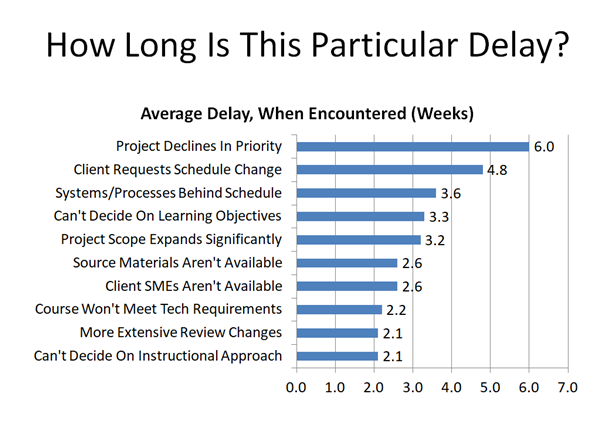 With this daunting array of potential delays, it's sometimes surprising that courses get developed and released at all! Yet by recognizing the most likely ones and executing proactive strategies, you can cut weeks off of your course development time, with learner and budget benefits to boot.
Please share what you've found in your organization, for delay sources and particularly for strategies to successfully combat them, by e-mailing them to jadelson@illumina-interactive.com. Thanks!