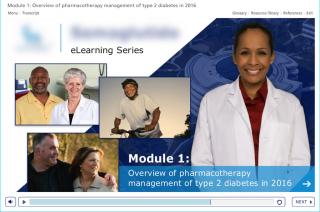 Six Degrees Medical Consulting:
Major Pharmaceutical Company Field Medical Product Launch Training
Develop a series of engaging e-learning modules to prepare medical liaisons, regional medical advisors and regional medical scientists at a major global pharmaceutical company with scientifically accurate and balanced information to customers for the rollout of a new treatment for type 2 diabetes.
Illumina Interactive was engaged by medical communications partner, Six Degrees Medical, to develop the new series which follows a long line of similar online training initiatives Illumina and SDM have collaborated on for pharmaceutical product launch. The series is intended for a global audience, involved subject matter experts in the US and in Europe, and the typical regulatory and legal review processes expected in the industry. Illumina and SDM realized a creative storyline – "red thread" that weaves in and out through the modules in the series and introduces learners to patients, primary care physicians, research scientists, medical liaisons, and experts on the product and underlying medical knowledge.
What our clients say about us
"They are quick to understand and adapt as the specs have evolved over time. Being flexible and responsive is a huge benefit. Because a lot of clients don't know what they need at the outset, the Illumina team is good at co-creating that solution and making informative recommendations."   Rebecca Jackson Stoeckle Deputy Center Director, Center for Research on High Risk Behavior Health and Human Development Division, Education Development Center