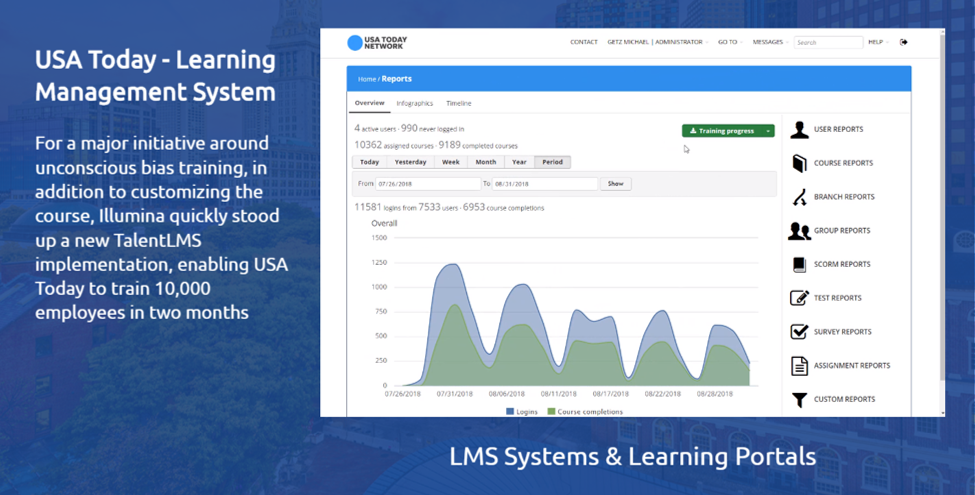 Rapid Enterprise-Wide Unconscious Bias Training
USA Today/Gannett had ambitious goals for providing unconscious bias training to its roughly 10,000 employees over a period of just a few weeks. Increasing the magnitude of the project was the requirement for a new learning management system platform for the initiative.
Illumina worked closely with its partner, IBIS Consulting Group, and the USA Today/Gannett team to identify and select key content areas, drawing from IBIS's Unconscious Bias e-learning module series, to create a tailored version for USA Today incorporating client branding. A major aspect of the initiative was the need to provide a platform to rapidly deploy the on-line course. Illumina set up and maintained an instance on Epignosis' TalentLMS cloud-based learning management system, first to conduct a pilot test with several hundred users in the late spring, and then to launch the enterprise-wide training for the entire target employee group in just 6 weeks over the summer. The implementation included Single Sign-On (SSO) to USA/Gannett's employee information system, email reminder notifications, and customized reporting to accomplish the rapid deployment to USA Today/Gannett employees. The project was extremely successful, leading USA Today/Gannett to undertake and complete a similar training effort a few months later, this time with another IBIS/Illumina diversity, equity and inclusion-oriented course entitled "Becoming an Ally." Allyship helps to advance inclusion, mitigate biases, support diversity, and attain equity for individuals and the organization that they are part of.
What our clients say about us
"They are quick to understand and adapt as the specs have evolved over time. Being flexible and responsive is a huge benefit. Because a lot of clients don't know what they need at the outset, the Illumina team is good at co-creating that solution and making informative recommendations."   Rebecca Jackson Stoeckle Deputy Center Director, Center for Research on High Risk Behavior Health and Human Development Division, Education Development Center