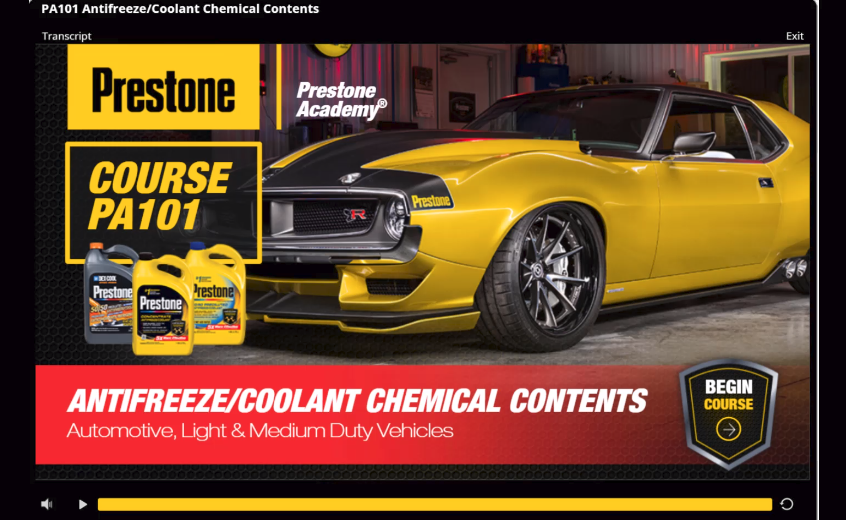 Microlearning Modules for Automotive Field Technicians and Salespeople
Prestone wanted to more effectively train automotive technicians using their products (antifreeze/coolants and other fluids and performance chemicals), and salespeople selling their products in stores. Prestone had developed an initial group of courses themselves but felt that the courses could be made more interactive and engaging, and also wanted to expand their library of elearning offerings.
Illumina started by enhancing the overall design look for Prestone courses, with more exciting graphics, and similar but slightly different versions for light-duty and heavy-duty vehicles. Illumina took an initial group of five Prestone-developed courses, moving them to the new design and adding engaging interactivities. Illumina extended the use of product graphics, and also created custom animations for the courses. Together, Illumina and Prestone have also created additional courses, and are slated to roll out more over the coming months. Illumina has continued Prestone's microlearning vision, with typical courses averaging five minutes for the learner.
What our clients say about us
"They are quick to understand and adapt as the specs have evolved over time. Being flexible and responsive is a huge benefit. Because a lot of clients don't know what they need at the outset, the Illumina team is good at co-creating that solution and making informative recommendations."   Rebecca Jackson Stoeckle Deputy Center Director, Center for Research on High Risk Behavior Health and Human Development Division, Education Development Center