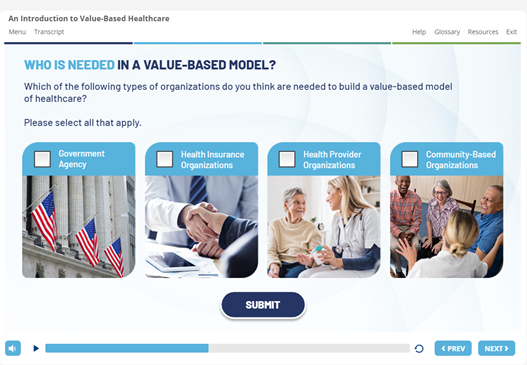 Finger Lakes Performing Provider System:
Foundations of Value-Based Healthcare
FLPPS wanted a set of elearning courses to help its partners understand and accomplish the changes necessary to transition from a healthcare model that compensates based on the volume of services to the value-based healthcare model envisioned and promoted by DSRIP. Part of what makes this transition challenging is the broad range of organizations that are FLPPS partners. The individuals within these many organizations vary greatly in their medical, operational, and financial focus and background.
Given this landscape, FLPPS envisioned a series of foundational modules, for everyone involved. In addition, there would also be more specialized learning tracks with modules for specific roles, such as home health aides, community health workers, and behavioral health workers, to focus on their particular tasks to achieve the successful transition to value-based healthcare. Illumina and FLPPS collaborated to create the foundation series and the home health aide series.
What our clients say about us
"They are quick to understand and adapt as the specs have evolved over time. Being flexible and responsive is a huge benefit. Because a lot of clients don't know what they need at the outset, the Illumina team is good at co-creating that solution and making informative recommendations."   Rebecca Jackson Stoeckle Deputy Center Director, Center for Research on High Risk Behavior Health and Human Development Division, Education Development Center