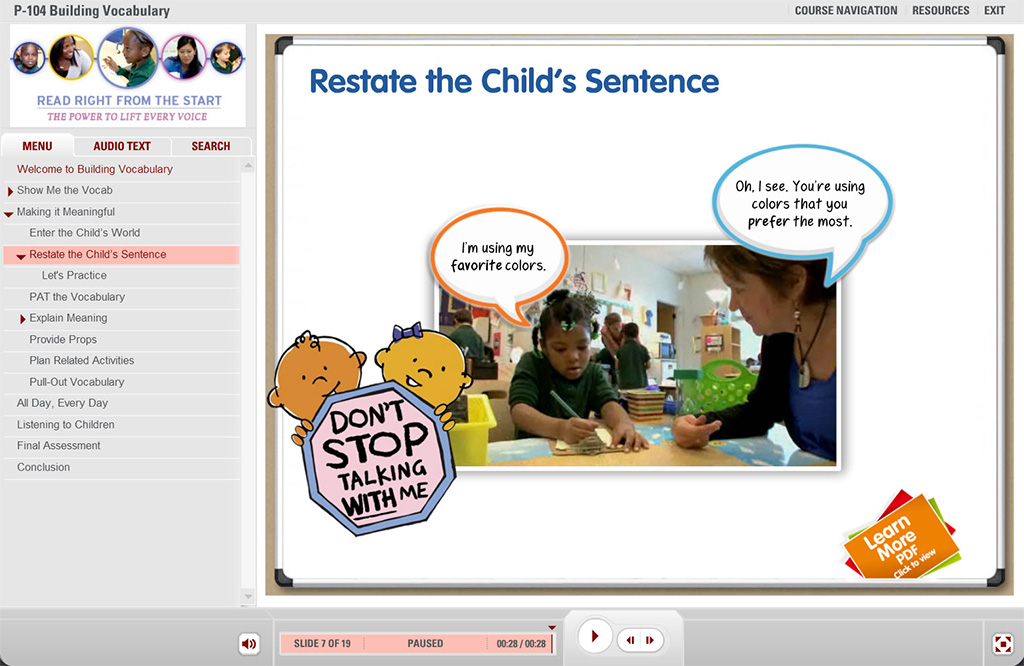 Rollins Center for Language and Learning: Right Road From the Start
Atlanta Speech School's Rollins Center for Language and Learning works to increase literacy teaching skills for Pre-K, Kindergarten, and early Elementary School teachers, to make their students better readers. Atlanta Speech School had been conducting classroom training for teachers, but found it very difficult to scale the training to the greater number of teachers it wanted to reach, and also to the increasing geographic distribution of its audience as it expanded statewide and even beyond Georgia.
Illumina developed a series of learning modules to help teachers build their students' reading abilities. For example, teachers receive guidance on best practices for building vocabulary with their students. The online course makes extensive use of video and photos, and also familiar images of "sticky notes" to bring in additional information and refer to supplementary material.
What our clients say about us
"They are quick to understand and adapt as the specs have evolved over time. Being flexible and responsive is a huge benefit. Because a lot of clients don't know what they need at the outset, the Illumina team is good at co-creating that solution and making informative recommendations."   Rebecca Jackson Stoeckle Deputy Center Director, Center for Research on High Risk Behavior Health and Human Development Division, Education Development Center